Maniquill favourite Red Steers have a new single out called 'Canoe'. Click on the picture to download it, totally free.
From
Cheese on Toast
, regarding Friday's post-pixies Mint Chicks show in Auckland:
"about four songs into the set, Kody (vocals) picked up the second drum set and started throwing it at Paul Roper (drums), who, in defense, wrestled Kody to the ground. The show ended abruptly with Kody shouting into the microphone "Go start you're own fucking band" before the band left the stage. Twitter reports this morning are unclear; MusicHype have said "The Mint Chicks show ended very unexpectedly last night. Wish we'd seen more songs in the set. To set rumors at rest everyone is okay."
The
Mint Chicks website
is now completely blank, apart from the words 'start your own fucking band'.
Split? Or semi-amazing stunt?
Labels

Blog Archive
mixtapes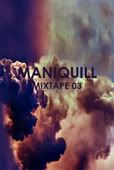 Disclaimer:
All music contained in the above Mixtapes is the property of the artist who created it.
The mixtapes are intended to promote the artist and their music. If you enjoy the Mixtapes and
their songs please buy copies of said music from the artists where ever possible.
If you are the artist or lawful proprietor of any music that appears in any of our Mixtapes
and are unhappy with the inclusion of your music in said Mixtapes then please contact us
at maniquill@gmail.com and we will remove it immediately.