In the 1960s several Italian newspapers carried a story that the American pilot who had dropped the atom bomb on Hiroshima had become a Carthusian monk, and was living in the La Certosa monastery in Southern Italy. Frank Monaco, an American photojournalist, was hired by a Catholic magazine to investigate the claims.
Monaco visited the monastery, where he found that the solider-turned-monk was not the Hiroshima bomber, but was rather a veteran of the Korean War who had visited the Hiroshima Peace Memorial Park on service leave. After the war finished, the solider found himself unable to integrate back into day-to-day American life, and turned to the Carthusian order.
Monaco decided to stay at the monastery regardless, and over three days he photographed the comings and goings of the monks who lived there.
Read more about Frank Monaco
here
. See more of his photos
here
.
Brooklyn's
Sacred Bones Records
produce vinyl for a roster of bands that specialise in the dark and noisy. They also use a really nicely defined visual aesthetic for their range of different LP covers.
Labels

Blog Archive
mixtapes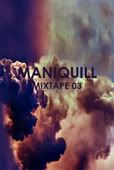 Disclaimer:
All music contained in the above Mixtapes is the property of the artist who created it.
The mixtapes are intended to promote the artist and their music. If you enjoy the Mixtapes and
their songs please buy copies of said music from the artists where ever possible.
If you are the artist or lawful proprietor of any music that appears in any of our Mixtapes
and are unhappy with the inclusion of your music in said Mixtapes then please contact us
at maniquill@gmail.com and we will remove it immediately.